FRIDAY 27 APRIL
The nearest subway station is my first stop as I board a train which will take
me on an hours journey to Coney Island on the far side of Brooklyn. On reaching
Coney Island I make my way to the fairground and beach overlooking the Atlantic
Ocean. It feels like a British seaside resort. It is totally desolate at this
time of year with a few joggers accompanying the seagulls along the wooden
boardwalk which seems to go on for miles and has giant brown brick tenement
blocks along one side. I am greeted by an African man working in the fairground
as I go for a stroll. The trouble is he is still staring and waving at me even
when I am another 200 yards or so along the boardwalk and turn round to look at
the giant ferris wheel. OH DEAR. I have to walk back that way too. I do this
pretending to look straight ahead but thankfully he's not there as I walk past
the spot of our acquaintance. I take a subway train to another part of the
coastline to get a better view of the Verrazzano Narrows Suspension Bridge than
the one I had yesterday. This part of Brooklyn is very clean and tidy with
beautiful wooden houses overlooking perfect front lawns. I catch the subway to
go to the main shopping centre in Brooklyn called Fulton Street Mall. The
journey on the train is interesting to say the least as two young adults jacked
up with heroin try to act normal but at the same time can't. Fulton Street Mall
is a real thriving area full of colour and hustle and bustle. I have lunch in a
local deli whilst watching the locals do their thing from the window. My feet are
killing me now but I manage to find the strength to walk through Brooklyn's
financial district and then on to Brooklyn Bridge to cross back over to Manhattan.
As I leave the bridge on the other side I am confronted by another young person
totally oblivious on heroin. Maybe it's Poppy Day today. I catch the subway back
to the hotel and give my blistered feet a siesta. The evening is spent in Times
Square including a trip to the cinema on 42nd Street with its 25 screen complex
to watch "The Taylor of Panama" with Pierce Brosnan. It isn't bad either. The
night also includes a trip to the top of the Empire State Building after dark when
the views from the observatory on the 86th floor of the lights below is wonderful.
This is after taking a simulator helicopter ride at the bottom of the building
which I could quite happily have done without.
---

The ferris wheel at Coney Island, 27 April 2001 (photo - Tim Dowden)
---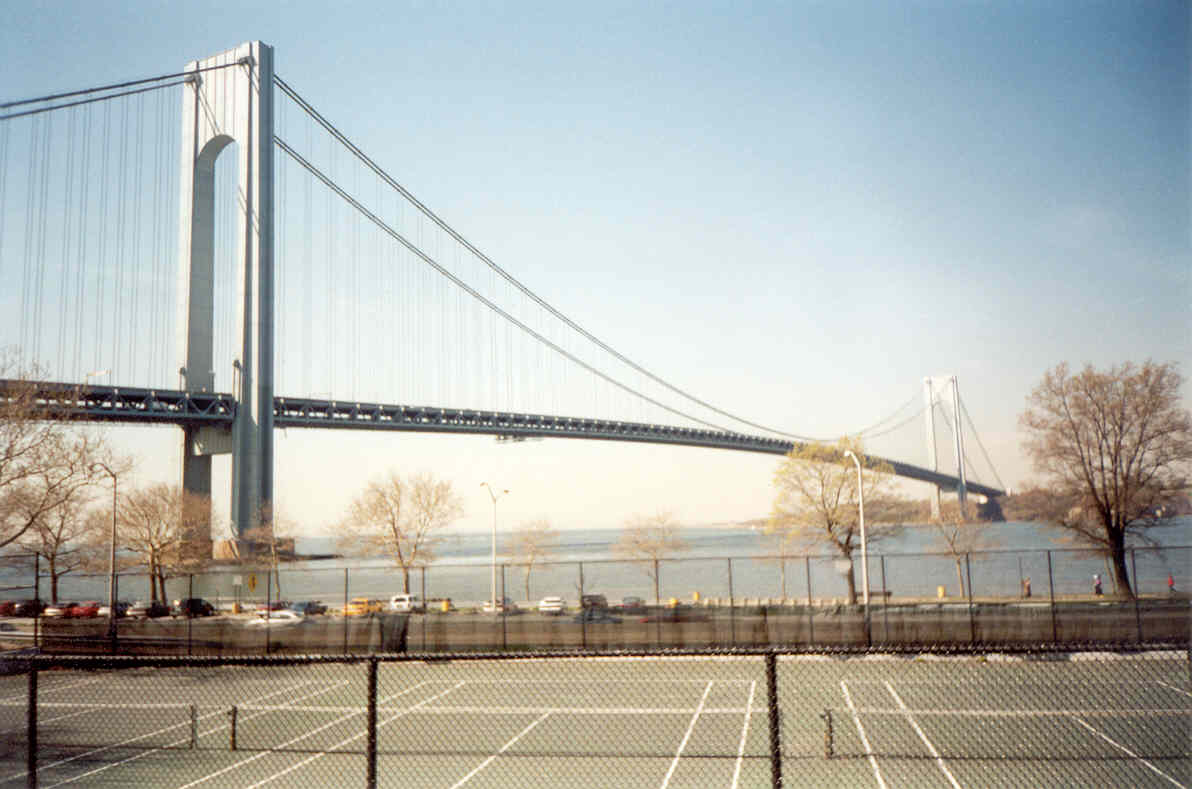 The Verrazzano Narrows Suspension Bridge from the Brooklyn side.
Staten Island is across the water, 27 April 2001 (photo - Tim Dowden)
---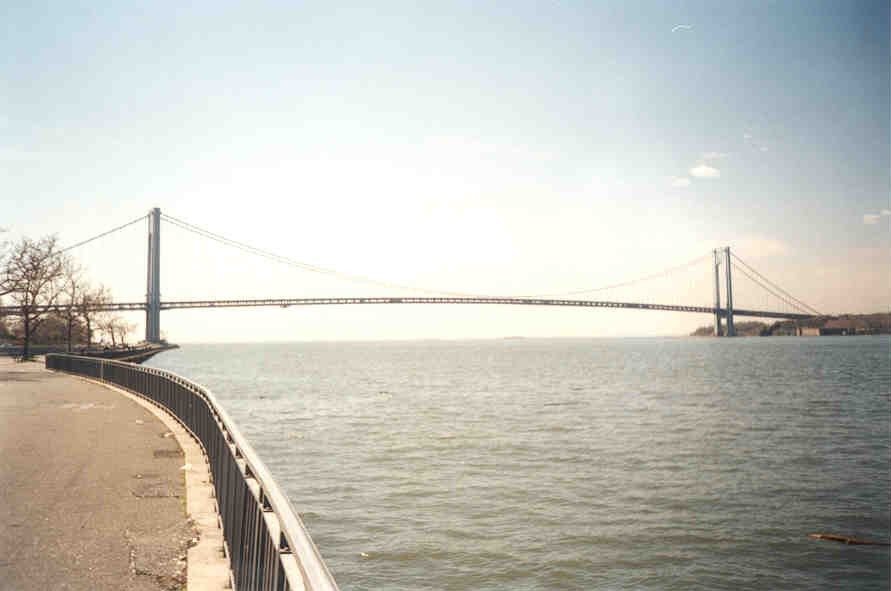 The Verrazzano Narrows Suspension Bridge, 27 April 2001 (photo - Tim Dowden)
---
---
---
---