WEDNESDAY 25 APRIL
I arrive at John F. Kennedy Airport around 1pm local time. I feel a bit agitated
as I don't have a hotel booked. After questions from the immigration officer
about where I am going to stay I find the airport's hotel reservations telephone
kiosk from which the operator then books me in to the Hotel Grand Union for 5
nights. Without having a clue what the hotel will be like I make my way there in
one of New York's famous yellow taxi cabs. The drive through Queens is fairly
interesting as I notice many of the buildings are made of wood. All very urban
with the Empire State Building always in sight some distance away. As we get
closer to Manhattan the road goes over the brow of a hill and suddenly the most
exhilirating skyline in the world opens up in front of me. There they all are.
Chrysler with her silver head staring at me with a big smile of welcome back on
her face and the United Nations Building holding its open arms out to me. Through
the tunnel we go and I am in Manhattan at last. The taxi driver drops me off at
the hotel on 32nd Street and Madison Avenue. I breath a sigh of relief when the
man at reception tells me I have a private en suite bathroom. My room on the 8th
floor is basic but very clean with cable TV. Expensive at $116 a night but the
cheapest available in New York. Having unpacked, I decide to walk across midtown
Manhattan to the Circle Line Ferry which does boat tours around Manhattan Island.
A 30 minute walk via filthy 35th Street takes me to the Circle Line pier. From
here I take the 2 hour ride round to the United Nations and back. Some of the
views of the skyline are spectacular, especially the Twin Towers of the World
Trade Center which are both 110 storeys high. The Statue of Liberty keeps her
beady eyes on me as the ferry passes her going round and back and Brooklyn
Bridge graces us with all her majesty. Once embarking from the ferry I walk
down 42nd Street and am amazed at the buzz of the place with all its neon lights
showing off to the crowds of people below who spend most of their time dodging
the maze of yellow taxis. Further along I reach the gracious Chrysler Building
in all her art deco splendour followed by a walk through Grand Central Train
Station which is stunning in all its marble and not a spot of dirt to be found
anywhere. Potholes in the roads emit steam as I pass the 102 storey Empire State
Building on 34th Street. She is pleased to see me again after all this time.
It must have been more than just a coincidence that my hotel is right near to her.
The evening is spent walking around a hectic midtown and brightly lit Times Square
with one of the nicest sandwiches I've ever eaten consumed at one of New York's
many deli's.
---

Downtown Manhattan with the World Trade Center dominating
the skyline, 25 April 2001 (photo - Tim Dowden)
---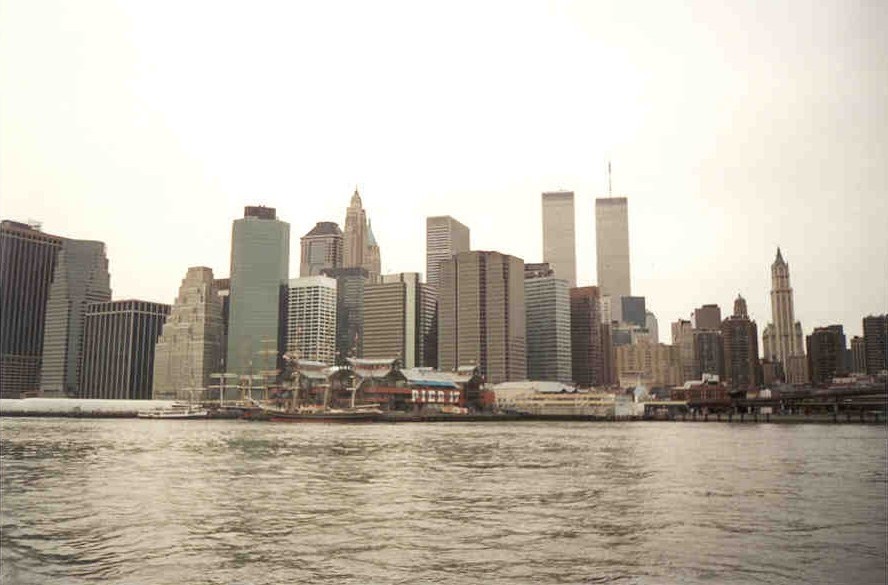 Downtown Manhattan from the East River, 25 April 2001 (photo - Tim Dowden)
---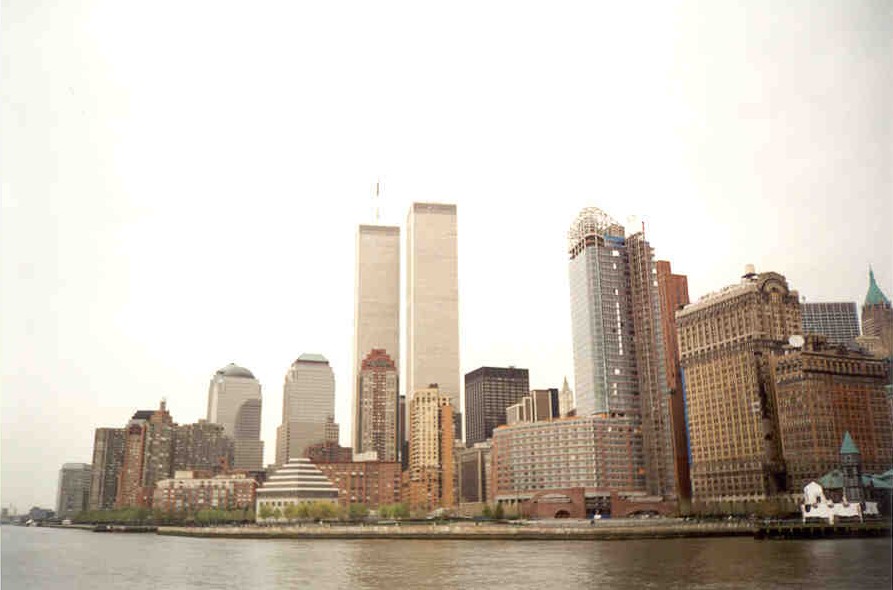 The Twin Towers, 25 April 2001 (photo - Tim Dowden)
---
---
---
---