SATURDAY 28 APRIL
I walk up to the Waldorf Astoria Hotel where the other half live and marvel at
the lobby with its many expensive shops. I can smell money everywhere I go
which includes an elevator ride to one of the floors with the hope of getting
a peek inside one of the hotel rooms if a door is open. No such luck. Off to
the subway again. This time for a trip downtown to Chinatown. As I leave
the subway station I walk into a scene from Beijing. Colourful streets upon
streets full of Chinese people doing their Saturday morning shopping. I just
follow the flow and eventually reach a Chinese "gleasy" spoon where I use my
typical tourist mindset and accidentally order 2 main courses to the amusement
of the waiters. I fight my way through piles of food which is very bland and
no I don't eat it all. I nearly thank the Chinese man sitting opposite me for
the lunchtime entertainment of setting a new world record for sucking the most
amount of noodles down his throat in the shortest possible time and producing
the sound of a vacuum cleaner to go with it. After eating I make my way
through to the Italian district called Little Italy with its brown brick
buildings where pavement restaurants are in abundance. Maybe I should have
eaten here instead. From here I walk through SoHo which unlike Soho in London
is an upmarket area full of expensive boutiques. I then make my way to
Greenwich Village stopping off for an ice cream. Greenwich Village is a trendy
area for students, artists and so on. I walk through Washington Square where
buskers and street entertainers earn their living under the giant marble arch.
My feet can't take anymore so I eventually find a subway station to take me
back to midtown. The subway stations are very difficult to find sometimes as
they are hidden on street corners with just a green lantern to indicate that
the subway station is there. The train takes me to the Central Park end of
5th Avenue where I take a quick look inside the Plaza Hotel where once
again I smell wads of money. This hotel's lobby is probably even more
impressive than the Waldorf Astoria. From here I gradually make my way down
5th Avenue popping into stores such as Tiffany's and the pretentious Trump
Tower. I take a look inside St. Patrick's Cathedral which is overwhelmed by
skyscrapers all around. I walk to the United Nations before eventually getting
back to the oasis which is my hotel room and have a rest before making my way
to the Empire State Building to once again go to the top but this time in
daylight so that I get some good photographs. The views are amazing with
masses of skyscrapers below staring back up at me. The Twin Towers can be
seen in the distance as they guard over the bay. I spot Macy's (the world's
largest department store) way down below and decide this will be my next port
of call. Before reaching Macy's I pass Madison Square Garden famous for its
many boxing fights and also take a walk through Penn Train Station which
unfortunately has been given a facelift so the free human entertainment doesn't
exist there anymore. I take a walk through the many floors of Macy's and am
especially impressed with the fur room and its coats at around $10,000 and
above. After another rest in the hotel I make my way to Times Square for the
evening and something to eat followed by a walk along Broadway. I have a
chuckle at the tramp with a cardboard sign saying "Please help, money needed
for drink, drugs and whores. At least I'm straight with you".
---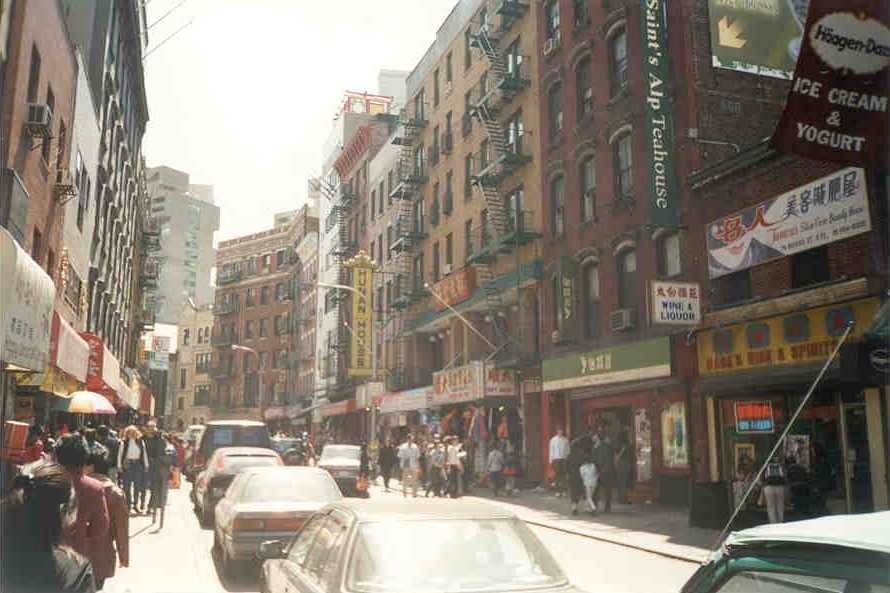 A busy Chinatown street, 28 April 2001 (photo - Tim Dowden)
---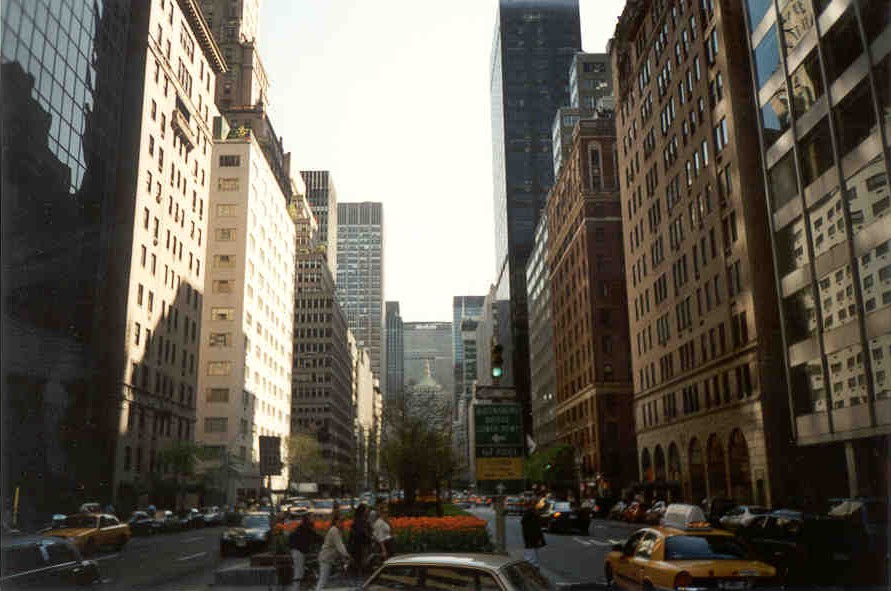 Looking down Park Avenue to the MetLife (formely Pan Am) Building,
28 April 2001 (photo - Tim Dowden)
---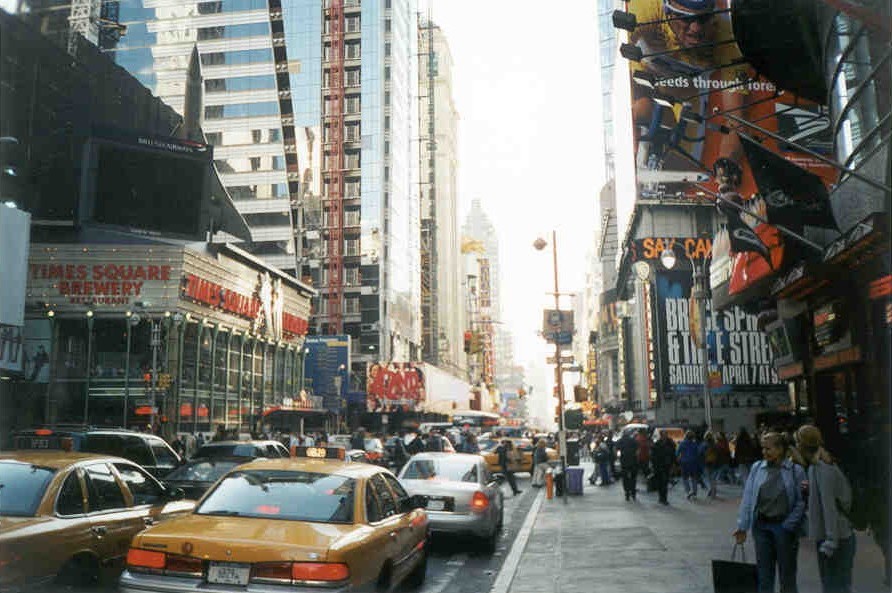 42nd Street at Times Square, 28 April 2001 (photo - Tim Dowden)
---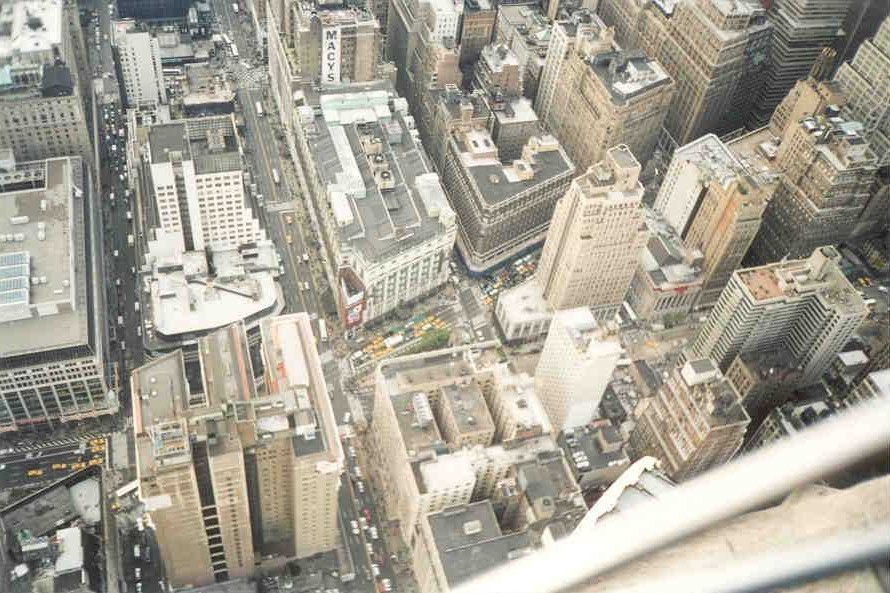 Macy's from the top of the Empire State, 28 April 2001 (photo - Tim Dowden)
---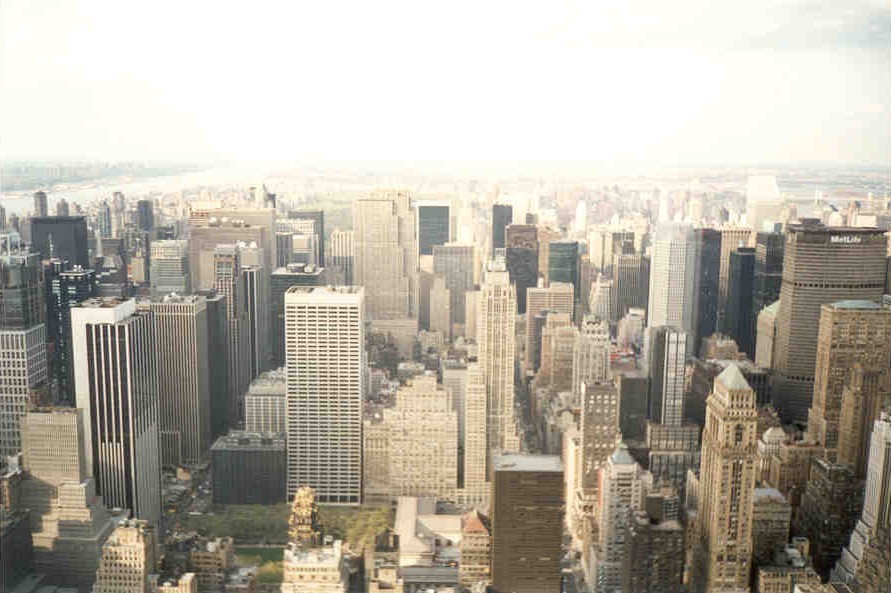 Looking north towards Central Park from the Empire State.
The Rockefeller Center can be seen in front of Central Park,
28 April 2001 (photo - Tim Dowden)
---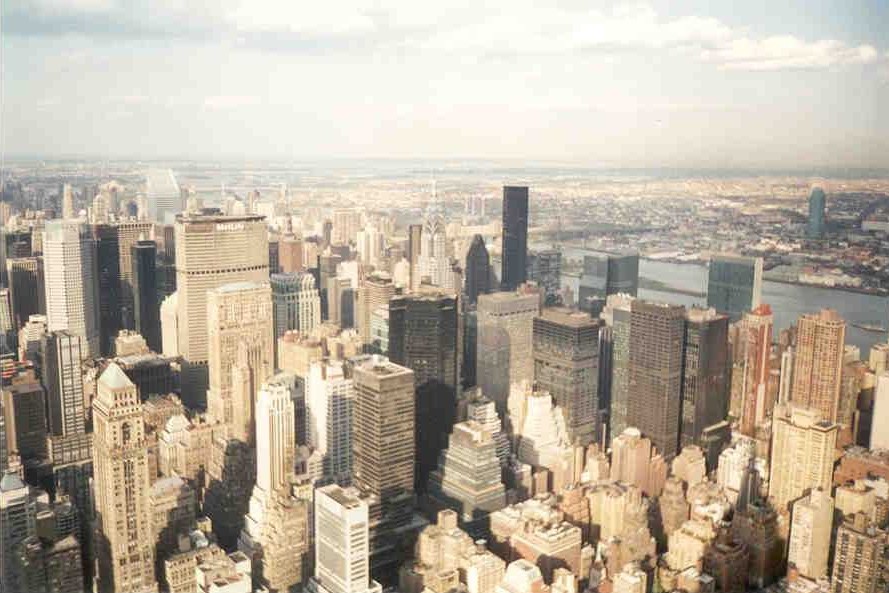 One of my favourite views looking northeast with the MetLife (formerly Pan Am)
and Chrysler Buildings in the foreground. The United Nations Building can be
seen to the right by the East River. Chrysler is unfortunately hidden behind a
new addition to the skyline, 28 April 2001 (photo - Tim Dowden)
---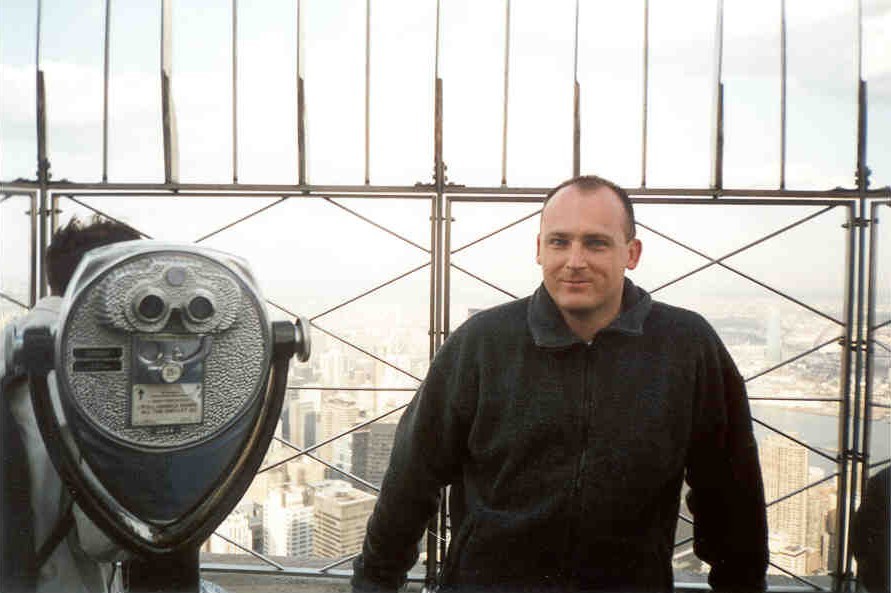 That's me, The Farnborough Prince on top of the world,
28 April 2001 (photo - Tim Dowden)
---
---
---
---